Arizonans for Children is a 501 (c) 3  charitable organization and therefore your donation is tax deductible if you itemize your Federal income tax return.
Under Arizona law (A.R.S. 43-1088.G.2–tax credit for donations to a Qualifying Foster Care Charitable Organization) Arizonans for Children, Inc. is a Qualifying Foster Care Charitable organization and cash donations  are entitled to a tax credit of $500 for single individuals and $1,000 for married couples filing jointly on the Arizona tax return. This credit can reduce taxes for these tax filers more than a regular deduction for contributions to charitable nonprofits, because they may get a dollar-for-dollar reduction in taxes owed. A tax credit is significantly more beneficial than a tax deduction.  A tax credit reduces your taxes, dollar-for-dollar. A tax deduction reduces the taxable income upon which your tax liability is calculated.
You do not need to itemize deductions to claim this Arizona tax credit.
100% of your donation goes to the children's programs,
NONE will go for administration or fundraising.
Financial and In-Kind Support
As a nonprofit 501(c)(3) organization, Arizonans for Children relies solely upon the generosity and commitment of community members to provide critical services to foster youth; and we gratefully accept your tax-deductible financial and in-kind donations in support of our programs or operating expenses.
Call 480-838-0085 if you wish to donate.
Donors
2018  Cash Funding Sources $2,000 and up
J. W. Kieckhefer – $50,000 (December 2018)
Community Outreach Foundation – $40,000 (June 2018)
In-N-Out Burger Foundation – $20,000 (December 2018)
David Weekly Homes – $15,468 ( December 2018)
Norton Family Living Trust – $10,000 (December 2018)
Ochrman Foundation – $10,000 (December 2018)
Nina Mason Pulliam Charitable Trust – $10,000 (November 2018)
T J Max – $10,000 (March 2018)
Executive Council – $5,500 (August 2018)
Cardinals Foundation – $5,000 (January 2018)
Finish Line Foundation $5,000 August 2018)
Margaret T. Morris – $5,000 (December 2018)
Otto & Edna Neely Foundation – $5,000 (July 2018)
Employees Fund of Boeing – $3,000 (December 2018)
Snell & Wilmer – $3,000 (December 2018)
Charlie Hilsabeck – $3,000 (December 2018)
The Norton Foundation – $3,000 (December 2018)
Sundt Foundation – $2,500 (October 2018)
Dr. Richard Morgan – $2,000 (December 2018)
Kenneth J. Sherk- $2,000 (December 2018)
Consumer Cellar -$2,000 (November 2018)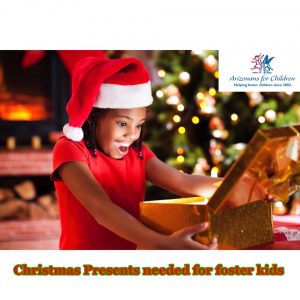 On December 15, 2019 Arizonans for Children will be holding a huge Christmas party for children in foster care. We need *new* presents to give these children. Please ask your friends to help. Gifts can be delivered to Mesa Children's Visitation Center inside Desert Heritage Church 1020 N Horne, Mesa or at 1112 W Camelback Road, Phoenix, AZ 85013.
People are always asking for ways to help Arizonans for Children, we have included our Wish List below for anytime you are shopping and would like to add a few items to your cart for us.  Your donations help us to continue serving Maricopa County's abandoned, neglected and abused children.  Donations can be dropped off at any of our Visitation Centers.  Thank you!
Click here to see our Christmas wish list on: https://go.rightgift.com/ArizonansforChildrenHolidays